IN THE NEWS: RACHEL PITTMAN FRANKLIN- ARETHA FRANKLIN'S BIG MAMA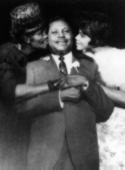 Aretha Franklin (March 25, 1942-August 16, 2018) was born to C.L. (Clarence LaVaughn) Franklin and Barbara Siggers.  C.L. and Barbara married in 1936. C.L. adopted her infant son, Vaughn and the couple had four children: Erma, Cecil, Aretha, and Carolyn. Although they were both from Sunflower County in the Mississippi Delta, they settled down in Memphis, Tennessee. As he worked to establish himself as a itinerant preacher, C.L. also worked as a migrant farmworker. His mother, Rachel Franklin  and stepfather Henry Franklin, had done the same.
Aretha Louise – one of the couple's four children was named after C.L.'s two sisters. She was born in Memphis, where C.L. Franklin had become pastor of the New Salem church. C.L.'s fame grew during WWII and he began to deliver weekly radio sermons that are believed to be the first ever directly broadcast from the pulpit. In 1944, Franklin accepted the pastorship of the Greater Friendship Baptist Church in Buffalo, NY and two years later moved his family to Detroit to take over at the New Bethel Baptist Church.
In 1948, his marriage to Barbara ended. Barbara took Vaughn and moved to Buffalo, NY where her mother lived. Aretha and her siblings stayed with their father. Barbara visited her children in Detroit and they spent summers with their mother. In 1952, Barbara died from a fatal heart attack. She was 34-years-old. As C.L. became gospel's first touring preacher, his mother Rachel and a series of housekeepers cared for the Franklin children.
Rachel Pittman Franklin (March 15, 1897) was known to her grandchildren as 'Big Mama.' The Pittman's had a long history in the Mississippi Delta. Rachel's parents were both born slaves on cotton plantations. Following slavery, Rachel's parents worked the land and raised their four children. Rachel's father Elijah Pittman was also a pastor. Aretha's paternal grandmother lost both her parents by the time she was 17. She had also fallen in love, married, and become a mother by then (Salvatore 2005). "A few short years later, Rachel lost her husband as well (4)." The couple had their first child, Clarence LaVaughn in 1915. Rachel carried her baby with her into the fields as she picked cotton.  Willie Walker and Rachel had another baby before Willie was drafted to serve in WWI. Shortly after returning from the war, he left his family. Rachel struggled to raise two children under 5 alone. As a single mother in her 20s, Rachel relocated in search of better work opportunities. She met and married Henry Franklin in 1920. Their first child and Rachel's third was named Aretha. Rachel stayed with Henry until his death in the 1950s. During this time, her son began to travel for work. Rachel moved to Detroit and helped care for her grandchildren. And when her granddaughter Aretha had her first child at 13 and second child at 15, along with Aretha's sister Erma, Rachel cared for great-grandchildren so that her granddaughter could tend to her skyrocketing career.
SOURCES:
Salvatore, Nick. 2005. Singing in a Strange Land: C. L. Franklin, the Black Church, and the Transformation of America.  Little, Brown and Company.
https://www.encyclopedia.com/education/news-wires-white-papers-and-books/franklin-c-l
https://metro.co.uk/2018/08/17/aretha-franklins-four-children-clarence-edward-ted-kecalf-7851368/
(Photo Credits- Erma Franklin)
(Featured photograph-Cecil, Rachel, C.L. and Erma Franklin, Cousin Brenda)
(Embedded photo-Rachel, C.L. and Carolyn Franklin in the 1960s)