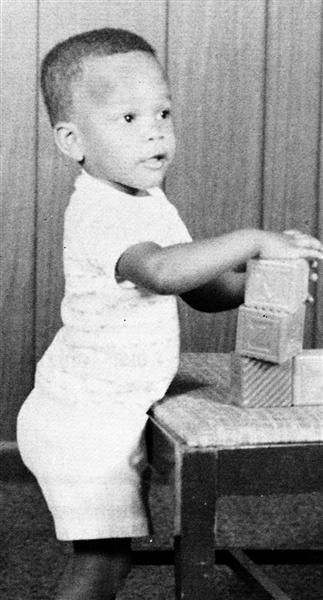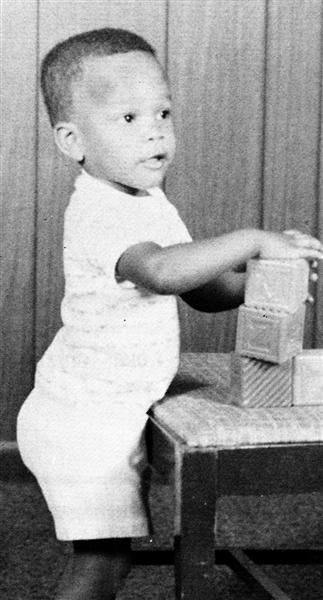 Jamie Foxx was born Eric Bishop on December 13, 1967. He grew up in Terrell, Texas. "His father and mother, Shaheed Abdullah and Louise Annette Talley, were very young when they had their son and soon felt overwhelmed by the burden of parenthood.[1]" Although Foxx told Michael Granberry, "In Terrell in those days, the community raised you," it was his maternal grandparents, Mark and Esther Talley who adopted him when he was just seven-months-old.[2] Mrs. Talley was a domestic and nursery school owner and Mr. Talley a yard worker. Esther Talley had a profound impact on her adopted son, and in interviews Foxx credits her as being his inspiration.[3] "My grandmother was 60 years old when she adopted me," Foxx remarked to Josh Tyrangiel of Time. "She ran a nursery school and had a library in the house. She saw me reading early, saw I was smart and believed I was born to achieve truly special things.[4]"
His grandmother was a devout Christian and did not allow nonreligious music in her house. It was his grandmother who enrolled the five-year-old in piano lessons.  By the time he was thirteen-years-old, Foxx began to play piano events around town. He was making up to three hundred dollars a month. Indeed, folks in Terrell learned early on that Foxx was destined for greatness. By the time he was fifteen, Foxx played the piano and was choir director at Terrell's New Hope Baptist Church. He also had a keen sense of humor—telling jokes to his 3rd grade class as a reward from their teacher if the class behaved.[5]  The budding musician, comedian, and academic achiever also showed he had talent as an athlete. "In high school he played quarterback on the Terrell Tiger's football team, and he became a local hero when he was the first player to pass for more than one thousand yards. After high school the talented teen won a scholarship from the United States International University in San Diego, California, where he studied classical music and composition.
Foxx was a shining star, but his biological parents did not take part in the glory. Although they lived only twenty-eight miles away in Dallas, they rarely visited their son. "I was making the Dallas Morning News, and my father never came down," Foxx told Tyrangiel, "That's weird. That absence made me angry. It made me want to be something.[6]" Being an absent father isn't something Jamie has repeated. The father of two beautiful daughters is very involved. Annalise (b. 2009) and Corinne (b. 1994) are regularly seen accompanying their father to various events. Jamie has shared that growing up with his grandparents in Terrell has kept him grounded. Jamie we can tell and wish you continued success on all fronts!
[1] http://www.notablebiographies.com/news/Ca-Ge/Foxx-Jamie.html
[2] https://www.dallasnews.com/arts/arts/2011/11/25/oscar-winner-jamie-foxx-a-terrell-native-loves-texas-and-can-t-wait-to-answer-audience-questions-thursday
[3] Notable biographies
[4] Ibid
[5] https://en.m.wikipedia.org/wiki/Jamie_Foxx
[6] Notable biographies