TESTIMONY: ASHA ALI
By Farhiya Abdi
AYEEYO MACAAN (SWEET GRANDMOTHER)
"I remember the scorching sun hitting my back while tears strolled down my eyes. I was eight months pregnant and was holding my two boys' hand as I walked to seek shelter. The home I once knew meant nothing because I lost the love of my life in that same home.."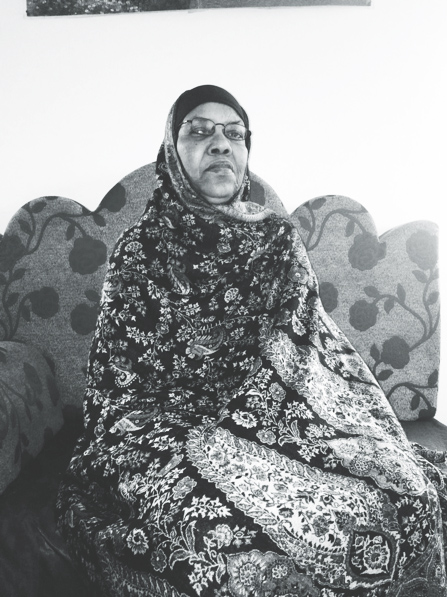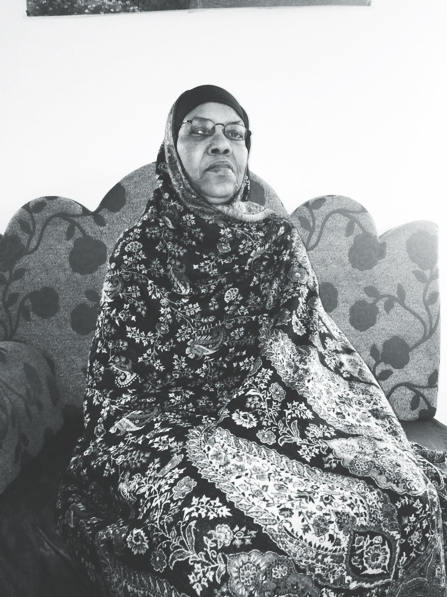 Asha Ali was born in Mogadishu, Somalia in 1961. She had loving parents and a welcoming home. She spent her early days going to Islamic school and being a great daughter to her parents. Somalia was peaceful at this time. She roamed in the streets in her dirac (cultural dress) with no care in the world. She loved spending time with her friends, she'd often visit them at local shops to have some tea and catch up on some gossip like any teenager. One day, while visiting her friends' shop she caught the eye of a handsome officer. This officer worked for the Somali government and was very well known in the city of Mogadishu. After a few more visits to that same shop, and a few more shy glances, the officer confessed his interest to young Asha Ali. A few years later, they got married. They spent their days very happy and in love. "He was not only the love of my life, but also my best friend," says Asha Ali, with a sad but proud smile on her face.
Asha had two beautiful boys with the officer. The Police Office that her husband worked in was a few blocks away from their home and she'd often bring his lunch to him while he was working.  "I remember it was a Thursday morning. I just finished feeding the children and was packing my husband's lunch, when I heard what sounded like 30 gunshots all at once. My first instinct was to collect my kids and that's what I did. A few moments later, I told my kids to not move as I ran barefoot to that office. The first body I saw was my husbands. I went into a shock after that." A Somali militia against the Somali government attacked the police station and killed everyone in that facility. Asha's husband was one of the victims that lost his life. Asha was pregnant with their first daughter.
Two days later, that same militia attempted to attack Asha and her family at their home. She was fortunate because they were not at home when the attack occurred. Afraid for the lives of her son and unborn daughter, Asha fled her home. Her husband was the protector of the house and now she felt very unsafe in the land she once called home. This is when the Somali civil war started in 1991. This was the biggest war in Somalia. Asha and her family had to walk by foot to a nearby city called Baydhabo to seek safety and shelter. It seemed like there was nowhere in Somalia that was safe at that time. They left Baydhabo for Ethiopia with the hopes of starting a new life. She was now the head of the household and the financial burden fell on her shoulders. After giving birth to a baby girl, she started working as a laundress to her neighbors. "My oldest son would sell eggs on the street because he was eager to help us out." A few years later, Asha heard about an opportunity to come to America. She and her kids arrived to Kenya's refugee camp in hopes of getting sponsored by the UN. In 2004, Asha had the opportunity to come to America on a Visa, but her kids were not fortunate enough. Her kids would still be in line to come, but they couldn't go with her just yet. Asha thought about what she was going to do. Immigration officials promised her that she'd be reunited with her kids soon. "I wanted to take this risk because this would mean a better opportunity for my family." America was a promise land for many Somalis, including Asha.
Fourteen years later, Asha's kids are still in the process of coming to the United States. They have all grown up and the two boys have kids of their own now. The oldest son has 4 kids while the 2nd son has 3 kids, "My youngest daughter goes to a university in Kenya and she is married and happy." Although, Asha's kids can't visit her that doesn't stop her from visiting them. Asha became an American citizen and got her passport. She visits her children and grandchildren every chance she gets. "The American immigration system has disappointed me. I wish my children and grandchildren could be here with me, every single day. Regardless of everything, I am still grateful. I have opened many businesses for my kids in Kenya and I will continue to provide for them until I am on this earth. God is the best of all planners and I am still patient that my whole family will join me."
Asha loves her kids dearly, but her grandchildren hold a rather special place in her heart. They call her Ayeeyo Macaan which means sweet grandmother.  "Every time I am packing to go to Kenya, I would make sure to fill my bags with extra sweets and treats for my grandchildren." Her oldest grandchild is 8 years old and the youngest is 4 months. "The first time I went back to Kenya, I stayed for half a year just to experience the birth of my granddaughter. It was so magical, and I couldn't sleep from happiness that night. I had the honor of naming her and I named her after her sweet grandmother, Asha. That next morning, I woke up early to make my famous shaax (somali tea) and xalwo (somali cuisine) to celebrate the birth of my granddaughter. The sweet aroma of the shaax filled the room, as well as the laughter of my grandchildren and children all gathered around. This day was so special because not one of us was missing from the house. This brought me so much happiness because I have been separated from them for so long."
I asked Asha what lessons she took away from her life and she said, "I never forgot who was with me from the start—my children. They were with me when I was widowed, in poverty and in mental crisis. They never left my side. Life tried to separate us many times, but there's nothing in this world that love can separate. My children have given me sweet grandchildren that are so full of life and give me so much joy. I thank my children for everything and I love them dearly. My biggest lesson is to never forgot those who you struggled with." Asha has fulfilled her role as a mother and grandmother in tremendous ways and I have been honored to interview her. The woman she lives with currently is my aunt and I often visit them when I get off from school. Asha is one of the kindest and most resilient women I have ever met. I too, call her Ayeeyo Macaan and I enjoy her company in ways she can't imagine.